Discover more from sprezza
A newsletter exploring menswear and WTF style means.
A few great hiking boots that don't cost $700
The Engineered Garments x Paraboot Clusaz drop is a wonderful shoe, but here are some great alternatives that don't cost nearly as much
On the hunt for a new fragrance
I've always had trouble finding good fragrances.
Maybe that's because I tend to enjoy more under-stated scents with toned-down, mature branding.
So I'm pumped to test some new scents out with the homies from Fulton & Roark. I've known these guys for years, and watched them go from making oils and soaps to launching their own fragrance line this fall.
Let me say: it smells twice as good as anything you'll wear with only half the spray needed.
I've been road-testing their Discovery Set for the last few weeks, and I love it. They send you a pack of mini samples, and each one is a different fragrance. I like rotating different scents based on my vibe/setting. But ultimately I'm digging their Sterling scent the most.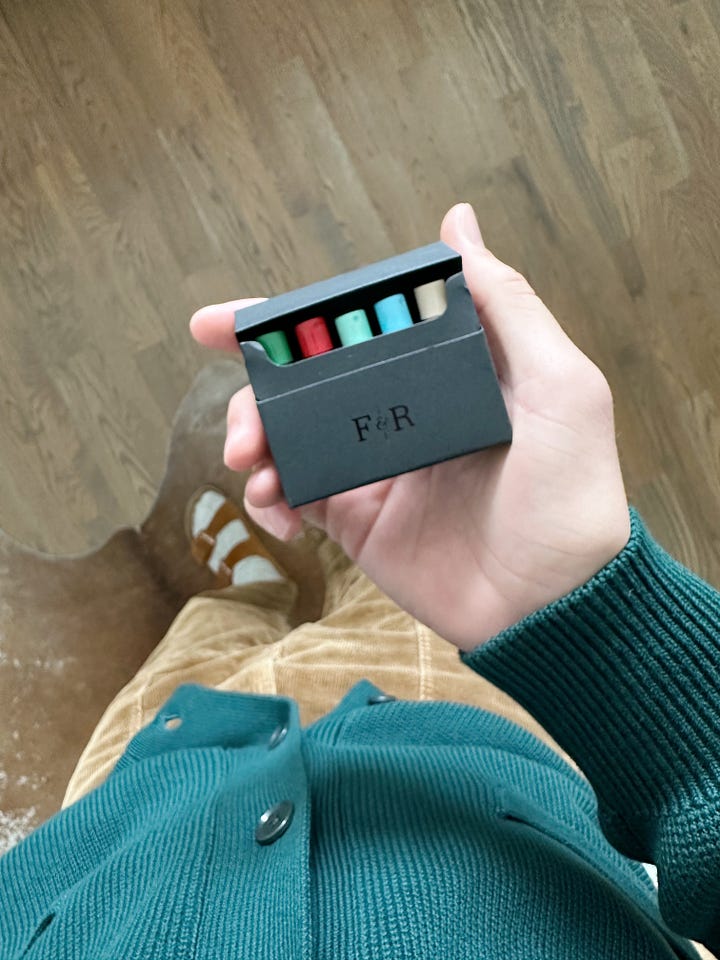 The Sterling tasting notes are bergamot, white musk, tobacco leaf, amber, leather, & vanilla, but the balance is perfect. No single note is overpowering each other.
When I first sprayed the Sterling it, you get this rush of fresh, warm vanilla, followed by a smokier tobacco and amber finish. But again, the balance is perfect.
I'll be reviewing these over the coming months, so you'll get more intel from me.
In the meantime, if you want to check out the Discovery Set for yourself, go here.
It's $35 to try all of 'em, but if you wanna get $5 off, use the code SPREZZA5 at checkout.
---
A sad acknowledgement
When Paraboot dropped their highly-anticipated Clusaz boot with Engineered Garments this week, I knew it'd be pricey but not $700 kind of pricey.
To be fair, this is a glorious shoe on all fronts, and the dark green suede is too smooth. And while I'm rarely one to balk at prices of products when I know it's been made with quality, I had a hard time with this one. I was torn.
But after accepting that I probably shouldn't cop a $700 shoe with a second child on the way in two months, I began to scan the internet for alternatives that would surely offer a similar aesthetic, but at a much friendlier pricepoint.
And in doing so, I fell down the footwear rabbit hole, realizing that hiking boots/shoes are really having a strong moment outside of niche outdoor-focused communities. And we'll talk more about that later, but for now, I wanted to share a few of my favorite casual / hiking boots right now.
"Alternatives" to the Paraboot x EG Clusaz
Obviously, we can't get a 1-of-1, and that's okay. Because there are plenty of good styles to spotlight here.
I love the rough suede on these low-top boots, but I like the shape and silhouette even more. It is a very Danner look (shoutout to the king), and at $248 you've got a solid pair on your hands. Throw in J.Crew's 30% off right now and you can get them for around $175, which is an absolute steal.
At a slightly higher price ($280) to J.Crew, we have the 1TRL from Merrell, which I have to say feels like a slept-on shoe right now. It's less outspoken and clunky than styles from other brands, but it looks really clean and wearable with any genre.
We're reviewing these next week in the newsletter, so we'll report then on how they hold up—stay tuned.
Diemme
Up next, we got Diemme, one of my favorite footwear brands. They almost always seem to know the right amount of unconventional design details to tweak to make a shoe feel unique. At $429, these chocolate brown Cornaro boots from Huckberry offer a solid workwear(ish) aesthetic, especially with the rubber toe…
But you also can't go wrong with the Cornaro green suedes on the Diemme website either (which are nearly sold out).
Danner
If you want something green that's well-stocked, I dig these Todd Snyder x Danner exclusive high tops ($440). The mossy green is truly so realistic and opposite from the Merrell sole, these are "luggy" in a good way. Almost Timberland-esque on the toes.
And then there's the CLASSIQUE—the Danner Mountain Light, arguably one of their most famous styles with the GORE-TEX liner. I've always loved the shape of this boot and feel that the red laces have made it what it is nostalgically.
This one's also $440, which feels right for the brand's story, craftsmanship, and history.
---
So there's a few options if you're still crying about the Clusaz boot.
Any others you'd recommend?