Discover more from sprezza
A newsletter exploring menswear and WTF style means.
What's in my brain right now, editor's edition
A proper grail, what's dropping this weekend, an homage to loose-fit denim, the best sale items right now, and more.
Don't be the Santal 33 guy
Look, no one wants to be referred to as the "Santal 33 guy." It's a wonderful scent, but it can put you in a box that you don't want to be in. You want to be free, unpredictable, and mature.
And that's what Fulton & Roark fragrances give you — maturity with playfulness. Finally went for the Sterling, a nice aromatic tobacco base with notes of leather and vanilla, and it's so, so good.
Check 'em out (use Sprezza5 at checkout for a discount on their discovery kit!)
---
Alright, we're back with another edition of what's in my brain right now: editor's edition. Got the homies stepping up to the plate to tell you what's in their brain right now.
Enjoy!
A proper grail
Whenever winter approaches, I pull out my sweaters that have been tucked away from the previous seasons. And in the process of swapping out my summer clothes for warmer ones—I'm reminded how knitwear is my weakness, along with excellent outerwear.
The piece that gets me each season is this old Cowichan zip-sweater (include image) from defunct Canadian brand Wings + Horns. It was given to me by an old boss of mine and is considered one of my grail pieces.
The sweater came out during the label's autumn/winter 2012 season and is still one of my favorite seasonal collections ever. From styling to the brand's signature cabin fleece robes to an indigo-dyed French terry suit—insane!
The Japanese fit mixed with the Canadian utilitarian fabrics was a match made in heaven, and the lookbook was a subtle nod to Nom De Guerre—another brand way ahead of its time.
Why is it one of my favorite all-time pieces? It's durable and made of virgin wool (untreated wool), which is also antimicrobial, so it releases odors on its own. The real horn buttons have never needed reinforcing, the riri zippers with the leather are an excellent artisanal touch, and the sweater is warm as hell.
---
What's in my cart - apparently, shoes 🛒
Adsum x Adidas
When: Thursday, November 16th at 11 AM EST only at www.adsumnyc.com
The good lads over at Adsum have teamed up with the 3 stripes to tinker with the Samba Millenium—a higher quality indoor/futsal version of the almighty Samba.
Since this one is a performance-driven shoe, it's versatile enough on the court or the streets. There's so much to like about this collab. The nutmeg beige (homage to footy speak) is too clean, and the main body is a buttery smooth leather and low nap suedes in multiple colors.
This shoe stands the test of time, hence the campaigning that it's "Good for a Millennium." A true testament to the timeless design. Also, how good is the creative?
Available Thursday, November 16th at 11 AM EST only at www.adsumnyc.com. 
Hoka x Satisfy
When: Available November 16th at SatisfyRunning.com and November 17th at HOKA.com
HOKA is partnering with Parisian running brand Satisfy on a new, joint version of the brand's signature Clifton silhouette. I won't lie; this piece is fire, and they make a traditional clunky HOKA look sexy.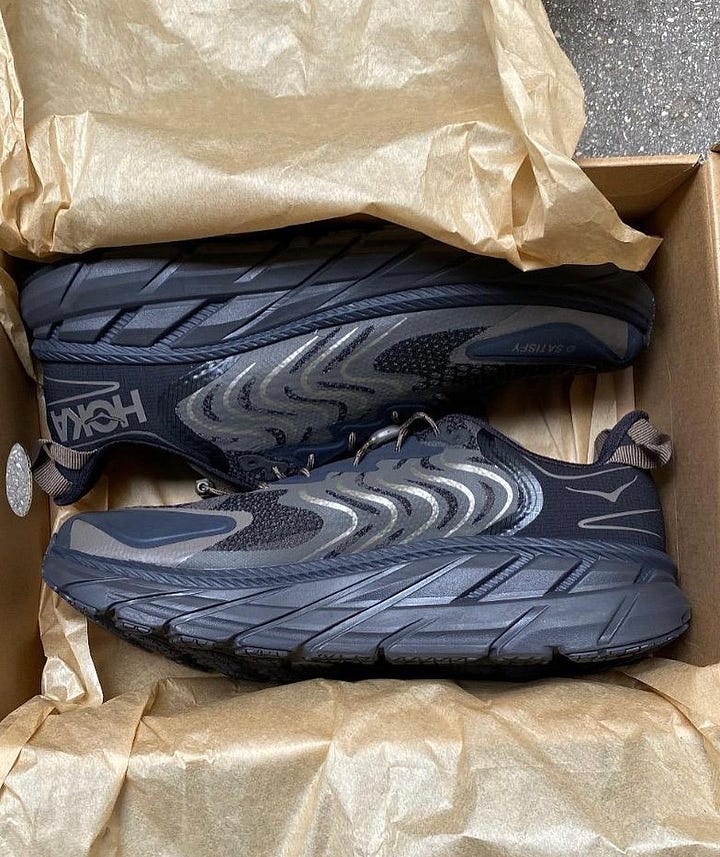 It's got a custom-engineered mesh design inspired by topographic maps (a nice touch), which helps breathability and gives it a distinct look tailored to the discerning runner.
It's certainly a shoe for the heads, but it's all about performance. And that's what HOKA does best.
Libero x Cueva popup in NYC
If you're in NYC this weekend, swing by my boy Adam's popup shop at the beloved Cueva, a great menswear store in downtown Manhattan.
Adam will be there both days, slinging garments, sipping espresso, kissing babies' foreheads, the works. Tell 'em we sent you!
To be fair, this is Libero's best collection yet, so you'll want to peep what he's got.
---
Let baggy szn commence
The 90s revival has permeated every area of our wardrobe these last few years. Some are great, and others are, well, we could do without them. But what I'm most excited about is loose-fitting denim.
We're back baby!
Out with the nut-huggers, in with letting the boys breathe.
A lot of brands have tapped into baggier, roomier silhouettes 3-4 years and I'm here for it. The looseness feels restrained and less… JNCO (never come back).
Knowing proportions is excellent too, so don't get too carried away with the big jeans, tiny tee Instagram algorithm. Save yourself.
Baggy jeans, clean hem, can't lose.
If you need some direction on where to start, look no further than our guy Drew Joiner, who has gone deep down the selvage denim rabbit hole.
Need a few brands to explore?
---
Loafers: the Gateway to Making Clothing
Putting your best foot (or loafer) forward gets you in the door; making fire-ass clothes is how they'll keep you.
London-based loafer brand Horatio is dipping their toe in the knitwear pool, and they'll be doing breaststrokes in no time, based on their seasonal offering. Solid crewnecks and rollnecks in playful colors are a recipe for success and comfort.
And tomorrow, Chris Echevarria—founder of Blackstock & Weber, the footwear brand beloved by jawnz enthusiasts worldwide—is launching a new brand: Academy New York.
Academy is his creative playground now, and collection 001 touches on elements from growing up.
"This collection draws inspiration directly from my days at private school and the uniforms that once defined a part of my adolescence and the transformation of those pieces from something I eagerly shed when I got home for trendier looks to the very fabric of my daily expression." - Chris Echevarria
All the pieces are a nod to his growing-up years, a seamless blend of ivy and vintage—only the good shit. And if the clothes are like his loafers, Chris will continue to run it up.
"Every piece was crafted in partnership with family-owned factories and suppliers right here in New York City. The fashion ecosystem here is the best in the world…"
Ultimately, this is a testament to the idea if you're starting a brand, starting small is the path to building something bigger.
So many brands start out by making full collections without knowing who their customer is and what story they want to tell.
But being a single product/SKU brand is the perfect way to find product fit, validation, and the key to building a real community.
---
Shit we're listening to this week
Sampha—Suspended
Jonah Yano—Concentrate
Coco—Last of the Loving (OurVinyl Sessions)
---
Tapping in with HIP Store's Tom Lyman
With the holidays quickly approaching, we hopped across the pond to catch up with one of our favorite shops to see what they're eyeing. Tom Lyman from HIP's buying team shares with us his most-slept on-sale pieces, what brands are selling well, and trends they're seeing amongst their customers.
What's the most slept-on sale item?
Danner Ridge Explorer
What brands/designers/pieces are selling well?
Universal Works (shocker), fleece mid-layers in particular. Really well-priced and versatile. Also, Orslow—their pants and denim are some of the best we offer.
Talk about trends you are seeing among customers.
Oh man, the domino effect of Samba (and blokecore) being so relevant is letting other great Adidas styles like Handball Spezial & Gazelle have their moment away from the terraces.
What's a staff favorite right now?
Goldwin Pertex Down Parka—shoutout to big coat season!
Pick three items on sale and tell us why you like them—
---
Mystery clicks
---